Dear friends,
Pisces season is upon us, with the New Moon at 15 degrees Pisces, scheduled to take place on Wednesday, March 6, 2019 at 11:03 AM Eastern US time. The energy of the chart is either simply terrific or completely awful, depending on . . . well, actually, it's not quite clear. Frankly, it'll probably be a mix of both.
On the day before the New Moon (Tuesday, March 5), Mercury stops to go retrograde at the very, very last degree of the Zodiac, 29 Pisces. The Lord of Communications is still stationary in Wednesday's New Moon chart, revving up for a three-week trip down memory lane. While pausing at this highly unstable and important degree, Mercury floods your consciousness with all sorts of surprising information: emotional insights and clues to past mysteries. Pay attention! Talk to ghosts and visitors from days gone by, believe what is revealed, and notice the feelings that emerge from your soul. The Cosmos is seeking to connect you to your future, and release you from a past that is closed.
As you have probably noticed, there's quite a lot of tension and strife in the world these days: this is reflected in the chart with with oodles of semisquares, squares, sesquiquadrates, contraparallels, and oppositions in the heavens. There are SIXTY-TWO argumentative aspects in the New Moon chart, each of which calls on you to DO something DIFFERENT.
It's about letting go of old, outworn ideas, naming and claiming your unique position and point of view, despite the prospect of conflict with other people in your life. It's about taking a stand, letting the world know what you need, moving toward your future and away from your past. It might also involve feeling sorry for yourself, getting annoyed, upleveling (or downleveling) significant relationships in terms of how you want to relate to situations or people in your life — and of course, there's always the option of banishing or dismissing people with a thunderclap of anger and a rousing good fight!
The bulk of the planets are in cardinal (action-taking) signs or mutable (changing) signs; only three planets are found in fixed (stable) signs. Of these fixed-sign planets, one is a newborn: Uranus at 0 degrees Taurus. Another, Venus in Aquarius, is only 5. Imagine a five-year-old trying to negotiate SIXTY-TWO argumentative aspects!
Mars in fixed Taurus is exceptionally self-willed and stubborn: either a mad bull in a china shop, or a placid cow chewing the cud in field of clover. Given everything else that's going on in the chart, we can probably expect the mad bull version. Picture the God of Action dashing through the streets of Pamplona, with his horns bared, head shaking, looking for somebody to gore . . .
Okay, so that's the rough and tough stuff. What is GOOD about the New Moon? The energy of the Sun and Moon in Pisces is — almost by definition — dreamy, inspired, creative, imaginative, and soulful. These two lights, moreover, are right next to Neptune and Vesta — also in Pisces — inviting you to create without boundaries or limitations.
Plumb the depths of your soul. Search out hidden dreams; this is an opportunity to make them manifest. Feel the joy of redemption. Reconcile with loved ones. Dissolve barriers. Loosen bonds and bounds. Escape imprisonment. Banish treachery. Connect to spirit. Find and act in honorable ways. Right wrongs. Heal wounds. Be like Sisyphus and roll that rock up the hill yet one more time, hoping it stays there! Seek justice. Sit down with your soul and have a good, deep heart cleansing chat.
It's a bowl-shaped chart, offering you the opportunity to partner with the heavens (and other souls) in a transformative way: to dramatically change how history will remember you and your life.
And finally, for more information about next week's New Moon, I invite you to join me on the evening of Sunday, March 3rd for my next New Moon Manifestation Circle webinar. Details below.
xo,
Anne
P.S. There's still time to sign up for the Access Astrology live workshop this weekend in New York City, and there's just one room left for the retreat in Tuscany in May!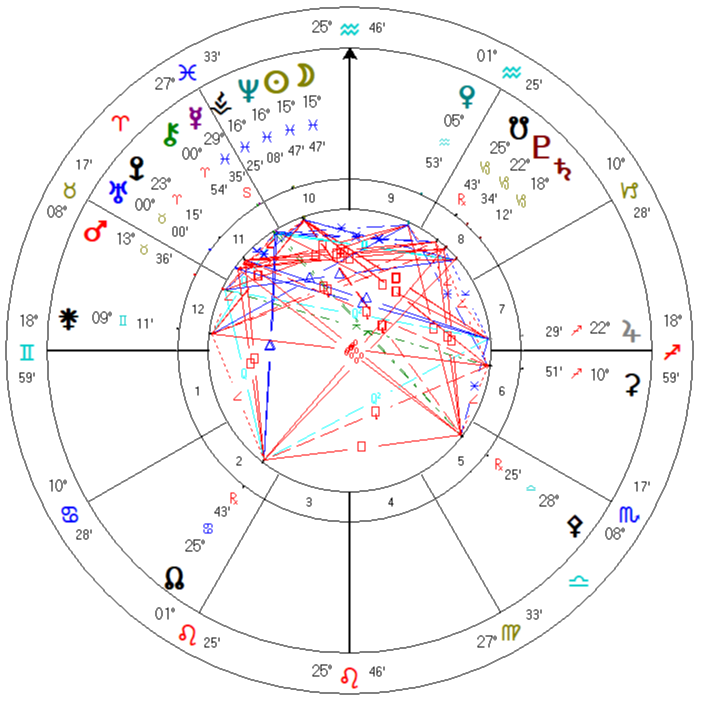 The New Moon in Pisces
Wednesday, March 6, 2019
11:03 am Eastern US Time
Chart cast for Washington, DC

Print Friendly